Cormac McCarthy is dead. He was 89. Raven told me about it the morning of the 14th, that Cormac had died the day before, and I dont like it when my heroes die. I have made altars to so many—Martin Luther King Jr., Wangari Maathai, Howard Zinn, Mary Oliver, Richard Nelson.
As an artist, and it seemed to me that his life could not be cleaved from his art, Cormac was on a long journey. He tacked toward something on a far horizon. He trekked a grim and winding path his entire life, determined to get somewhere in his art most of us dont understand. Sometimes he had to sleep beneath a river bridge and sometimes in desolate Mexican mountains and once he wandered for a long time through a deathscarred and apocalyptic landscape with a little boy. The ill they saw was terrible. I was there with them.
I heard the door open and shut when the candle guttered on the first page of All the Pretty Horses.
"The candleflame and the image of the candleflame caught in the pierglass twisted and righted when he entered the hall and again when he shut the door."
Some of the things Cormac wrote I could not read. They were too dark, too neurodivergent, too terrifying, too bloody. For all the ways he roamed the margins, through the dregs, circling the outskirts, he was able also to canvas the love. I read Cormac in anticipation of the moment yellowlight blossomed on a flower or struck its wide band across a ribbon of earth. That one moment made up for pages of violence and despair. His work affected me deeply. He was a dark and bitter alchemist, but not a man without honey, not unceasingly bitter. All the Pretty Horses was my favorite, and I consider it his best. It was the lightest. Even it at times was hard to read.
The other day I was listening to a marketer who described herself as an author because she had independently published a book. Because of the internet, she said, anybody can record an album and publish it overnight. Anybody can become an author. There are no gatekeepers now, she said.
I believe that Cormac in his lifetime saw his share and more of gatekeepers, particularly because his work was gothic, moody, and bent toward errancy. I bet that he was often, especially in the beginning, discouraged. As a writer he inched himself forward by flinging everything he had at his art, at his ideas, and at the burning silence. He moved forward in an old fashion, with the old idea of agents, editors, designers, publicists, producers—folks who took his ideas and scattershot them from cannons. He didnt decide for himself whether or how far a book would go. He simply did the work.
People say that his writing was different in that he didnt use punctuation. Thats not correct. He used punctuation. Every one of his sentences ends with a period or a question mark. He quit certain punctuation marks, namely quotation marks and apostrophes. He avoided commas and parentheses. It made no sense, actually. He would use an accent mark but not an apostrophe.
To avoid hyphens hed fit two words together. Im not talking about compound words, like firepower or nighthawk, already accepted by copyeditors. Im talking about hundreds of new words he added to the English language by refusing to use a hyphen. Why?
I dont know how the editors let him get away with this. They catch me every time. Autocorrect wont let you get away with it either. Nobody could get away with this except Cormac.
Here are some compound words Ive gathered from his books.
cutglass
boilersmoke
blanketcoats
ardenthearted
highschool
gaptoothed
shineboy
hairpapers
nightwear
barman
watertank
He got away with another thing. He wrote lines in Spanish without translation. If you were reading the Border Trilogy and you didnt know Spanish or didnt pause to translate, you missed a good percentage of the book.
One last point I want to make. Cormac was a master of verb use. When I read Cities of the Plain, I gathered a sheet of verbs from it to post above my writing desk. Influenced by Faulkner, Cormac had a thrilling vocabulary of verbs and he never missed an opportunity to employ one. He didnt truck in linking verbs.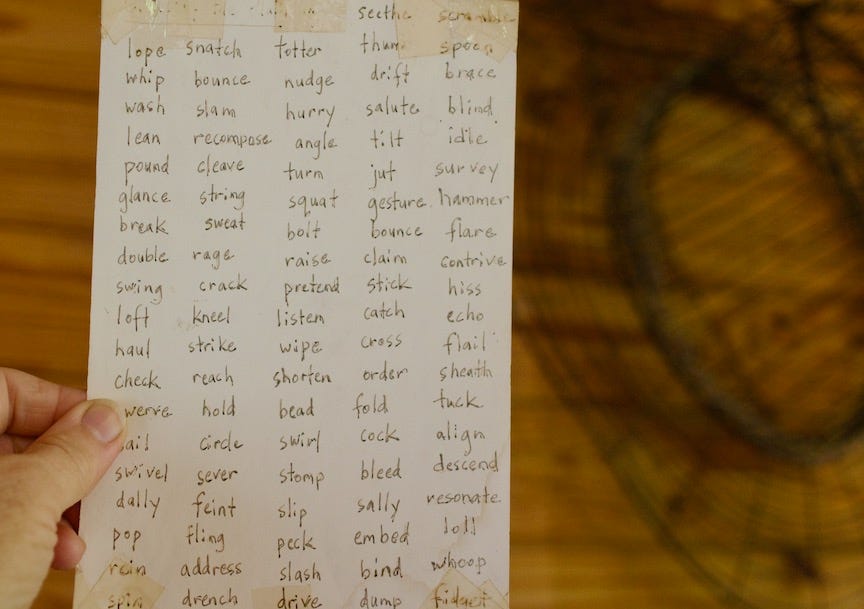 I never met him. I wanted to. But what would I have said? What question could I have asked that had not already been answered in his body of work and in his public silence?
Since he died Ive learned a few things. He had three wives. He had two children, both boys. He was born Charles and changed his name. He was not born in Knoxville as I had thought but in Providence. I thought he lived in El Paso and he did, but he had a home in Santa Fe. Stephen King tweeted that he was maybe the greatest American novelist of his time.
On June 13 Cormac McCarthy reached the edge of the vast and barren landscape he had labored through for so many years and he waded out into the bluedeep. A candleflame guttered and went out.